THANK YOU SOOOOOO MUCH for the delicious scones! It was such a sweet surprise on our wedding night. It was a very thoughtful gesture, and very much appreciated, albeit undeserved. It just goes to show what incredible people you are, and I'm honored to know you.
Chocolate Chip Spice Scones
3 c. All Purpose Flour, plus more for dusting surface
3/4 c. Sugar
1 Tbl Baking Powder
1 tsp Kosher Salt
1/2 tsp Baking Soda
1/2 tsp Cinnamon
1/4 tsp Ginger Powder
1/4 tsp Ground Nutmeg
3/4 c. (1 1/2 sticks) Margerine, cold, cut into cubes
1 c. Coconut or Soy milk, plus more for brushing
1 tsp Vanilla
2 Tbl Course sugar for dusting
1 1/2 c. Chocolate Chips
Preheat oven to 425.  Line 2 baking sheets with parchment paper.
Whisk together flour with dry ingredients in a large bowl. Add cubes of margarine, rub in with your fingers until mixture resembles coarse meal. Stir in coconut milk and vanilla until a shaggy dough forms. Add chocolate chips. Gently knead together, keeping the pieces of margerine as separate as possible in order to create the best "flake".
Transfer to a heavily floured surface. Pat down to about 1-1 1/2" thick. Cut with round cookie cutter or rim of a glass dusted with flour, about 2-2 1/2" in diameter. 
Bake until golden brown, about 13-15 minutes. 
Keep in mind that they taste best fresh, either the day they are made or the next. If you have more than you need from the recipe, I've found that it works really well to finish preparing them and freeze them raw on a cookie sheet before transferring them to a plastic bag. Then when you go to bake them next time, they taste as good as they do fresh (and not as much so when you bake and then freeze). 
I have also found that refrigerating them (or trying the pre-feezing method) helps them keep their shape when baking, but it is not necessary if you don't want to spend extra time. 
A note from a bride:
"Hey Chana!
They came out so yummy. I used the earth balance and organic white spelt and a little bit of organic whole wheat (I was running low on both so I mixed them)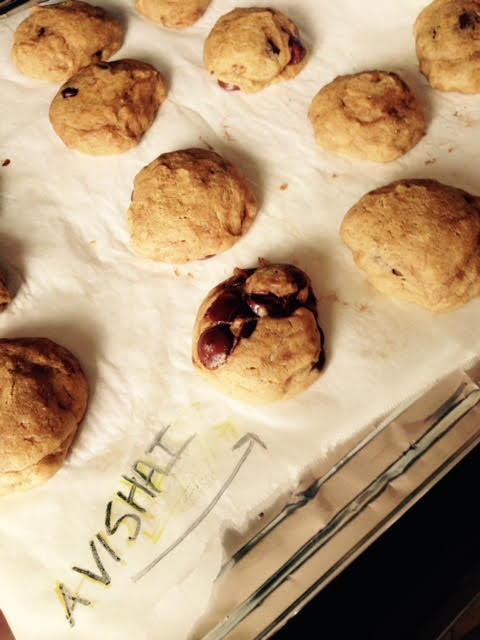 Image by Avigayil & Avishai
They came out AMAZING 🙂 I love the nutmeg/cinnamon/ginger blend, so rich tasting! Thank you so much for introducing them to us… it was the first dessert I made married and Avishai is crazy about them! 
Ps: Avishai experimented with one with extra chocolate chips- ended up being the yummiest one 🙂 "